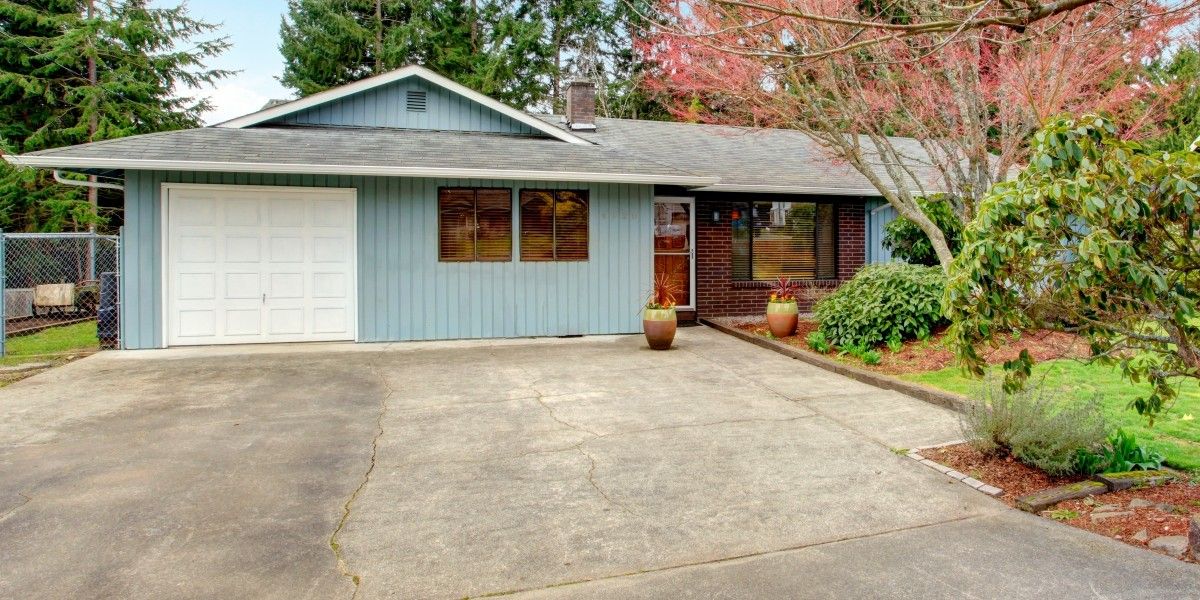 5 Signs It's Time to Replace Your Concrete Driveway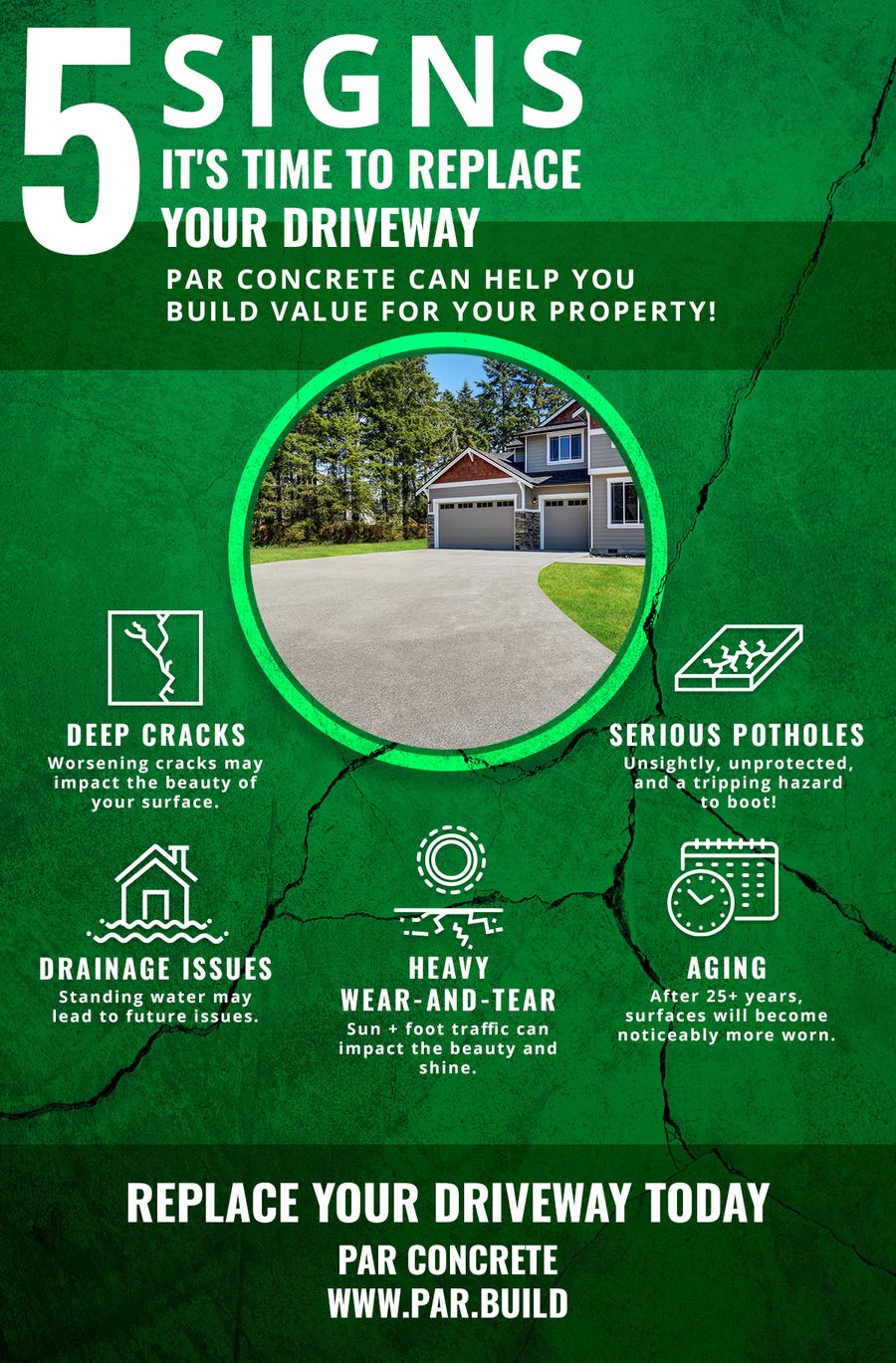 Your Florida home's curb appeal plays a large role in the beauty of your house as well as the value of your property. Despite your best efforts to maintain your property, the look and functionality of your driveway may begin to hold your home's beauty back. Old, used, and otherwise broken driveways can cause safety concerns for your vehicle, home, family, and guests. If now is the time to replace your driveway, you will likely notice a couple of the signs mentioned below.
Par Concrete offers complete quality and peace of mind with all of our concrete services in Orlando and across Central Florida. We know this is a big investment, which is why our local concrete company offers cost-effective results and manageable financing.
Deepening Cracks
Florida does not need to worry much about the ravages of seasonal freeze-thaw cycles and the expansion and contraction of concrete, yet foundational concerns can eventually lead to issues in the slab, such as cracks. These fissures along the surface can also be caused by surface damages, resulting from heavy sun exposure, continual contact with gas, oil, or other chemicals, and more. Once these cracks form, rainfall and other moisture can begin to infiltrate the porous concrete beneath and cause problems.
While minor cracks can be mended and sealed over, long, deepening fissures can prove to be more problematic. If your driveway is ailing from worrisome cracks, keep in mind that things will only get worse! Par Concrete can inspect your property and provide honest advice on how to proceed with your driveway replacement.
Unavoidable Potholes
Cracks in the driveway can look bad, but what about unsightly potholes? Shifting and otherwise damaged concrete slabs can produce holes in your smooth driveway, generating aesthetic issues and concerns for the safety of your driveway and the health of your vehicles. Once the surface materials begin to loosen from temperature changes and heavy use, the top layer will begin to break apart and leave behind a hole.
Minor repairs can be made to potholes in your concrete driveway, but bear in mind that the damages beneath the surface will likely lead to future risks. Leaving these openings as-is will only cause the potholes to grow larger, impacting your tires and suspension as you drive over on a daily basis. Potholes can also be tripping hazards, creating serious concern for your family and guests.
Drainage Concerns
A new, intact driveway will effectively push water outward and away from the home. Years of use and settlement, however, can cause changes which may impact your concrete's ability to drain properly. Uneven, cracked driveways can pool water in certain areas, increasing the saturation of aggregates and increasing the likelihood of future damage.
If you've noticed water pooling on your driveway, keep in mind that repairs may be possible to provide better performance. However, serious drainage issues can be hard to rectify, and will likely lead to a replacement as a more cost-effective option.
Worn-Out Appearances
Decades of quality use can take their toll on the aesthetics of your concrete driveway. Sun and saltwater are abundant across Florida, which can continue to beat down and wear away at the finish of your home's exterior surfaces. Many homeowners take action after noticing that their concrete surface is fading. Dry, weathered driveways can be treated with a sealant, but keep in mind that this will only work if the slab is in decent condition.
Age-Old Problems
As the Roman aqueducts have shown us, concrete is a resilient building material capable of lasting for decades. Modern construction provides lasting results for concrete surfaces, with most driveways lasting 15 to 20 years. After this period, the signs of regular wear and tear will become much more apparent. Cracks, potholes, fissures, and other issues along the surface of your driveway can be caused by a variety of forces, but age is the one factor which cannot be avoided.
If you have enjoyed the use of your driveway for nearly 30 years, then now may be the time to consider a driveway replacement. Keep in mind that the longevity of your concrete surface will depend on a number of factors, including the subgrade conditions, concrete consistency at time of placement, environmental conditions, routine upkeep, and more. Par Concrete can help you achieve lasting value and enjoyment for your new driveway, relying on our proven techniques and tools to engineer an ideal finish. We'll also provide advice and support to ensure that your slab lasts as long as possible.
Schedule Your Concrete Services
Winter is on its way, as many homeowners schedule property improvements through their trusted professionals to add beauty, functionality, and value. Your Florida home's driveway may match one or more of the signs above, in which case, we recommend reaching out to Par Concrete for assistance!
Our concrete company in Orlando specializes in services such as driveway replacements, providing you with a beautiful surface and years of lasting value. Residential and commercial customers are often surprised by the quality and affordability of our services, and tend to return for future property improvements. If you're ready to receive an estimate for your new driveway installation, contact us online to get started!