Concrete
Get Your Free Project Estimate Today!
Our Concrete is On Par
Par Concrete of Orlando is here to provide modern beauty with an age-old building material. Our concrete company proudly offers Lake, Seminole, and Orange Counties a full range of concrete services to get the job done. We know how to create a beautifully durable finish for your project, generating quality results that stay within your budget while bringing your vision to life.
Why Choose Par Concrete?
Screened and Approved By HomeAdvisor

BBB Accredited Business

More Than 40 Years of Experience

Service Throughout Central Florida

Custom Designs For Your Home or Business

Precise and Prompt Installations
Concrete Installation Your Way
When it's installed right, concrete lasts for decades. However, it takes hard work and major equipment. With Par Concrete of Orlando, you can know that your property will be well taken care of. We've had 40 years of combined experience to perfect our handiwork, so we know how to install concrete to last without trampling landscaping or damaging your property. You'll always know where we are in the process thanks to our proactive communication style. Trust us with your home or business and we won't let you down.
Versatile Concrete Services
Tough, durable, and beautiful — concrete makes all the difference when it comes to curb appeal. At Par Concrete, we've made it our business to give home and business owners the long-lasting concrete they deserve. As one of our clients, you can expect our local concrete company to listen to you, stick to your budget, and keep your project on schedule. We can't wait to get started.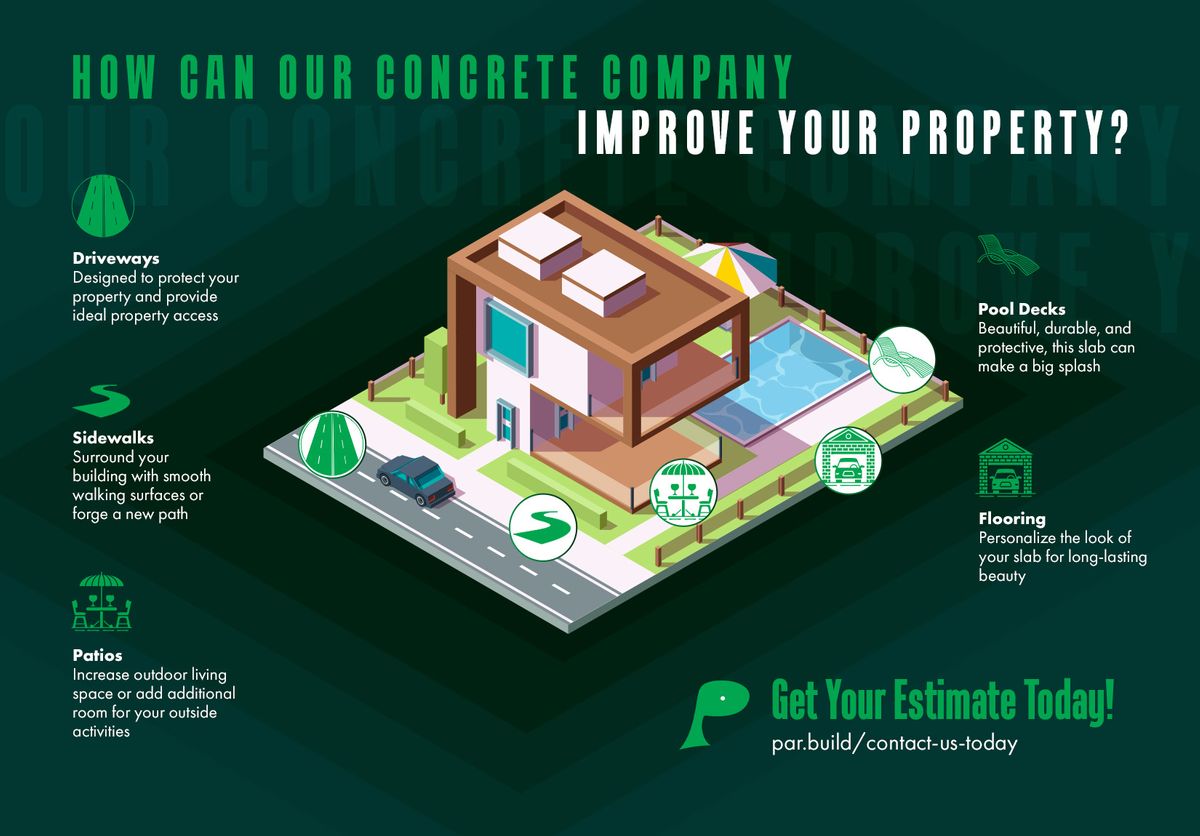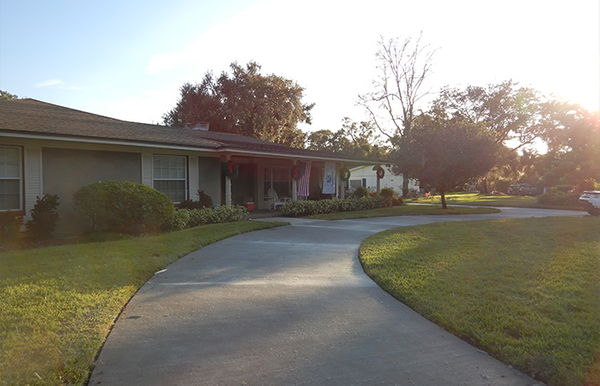 Driveways
Like most Florida homeowners, you rely on your concrete driveway on a daily basis. Over time, this slab can begin to crack, chip, and settle, creating a variety of hazards and aesthetic issues. Minor cracks and gaps can allow moisture to infiltrate, saturating the subgrade beneath and leaving the concrete exposed to additional settlement. Instead of watching helplessly as your driveway falls apart, why not replace it with a new concrete driveway to improve your peace of mind and increase your home's curb appeal?
Looking for a beautiful alternative to our concrete services? Par Concrete also specializes in paver installations, creating high-quality results for those that love the clean look of pavers without the worry of an incorrect installation. Learn more about our paver services before requesting your quote!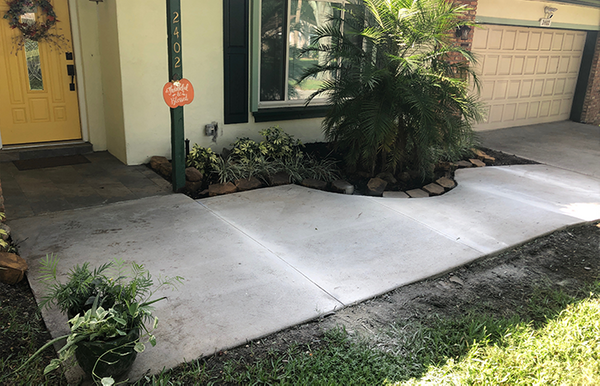 Sidewalks
The pathway leading to your home may be looking a lot worse for the wear these days, and these imperfections can cause more than aesthetic concerns. Gaps, ledges, and other hazards associated with old, decaying concrete can all create a tripping hazard for guests and passersby. A new concrete sidewalk can prove to be fast, cost-effective, and ideal for restoring the safety and beauty of your property. Our Orlando concrete company can help, completing the subgrade prep, forming, and pouring of your new sidewalk. We can take on simple work such as connecting your porch to the front of your yard, or complete more complex projects such as winding garden paths. We also provide professional finishes with concrete stairs, so be sure to request your free project estimate to see how effective our services can be!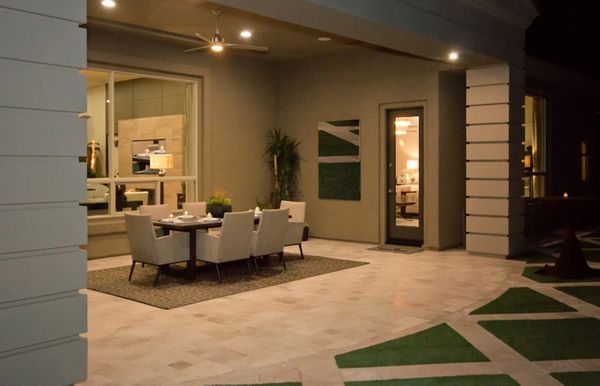 Patios
Tame your yard and create some serious relaxation space with a concrete patio through our professional team. Our concrete company will provide the right fit for your space, offering the best dimensions, slab thickness, exterior finish, and more to create a beautiful finish. You'll love the added hardscaping, providing space for a variety of fun-filled activities for the family to do all year long. Barbeque and entertain guests, set up a comfy spot and read your favorite novel, and soak up the sunshine! Par Concrete can generate beautiful results for every project, from simple slabs to complex designs and more.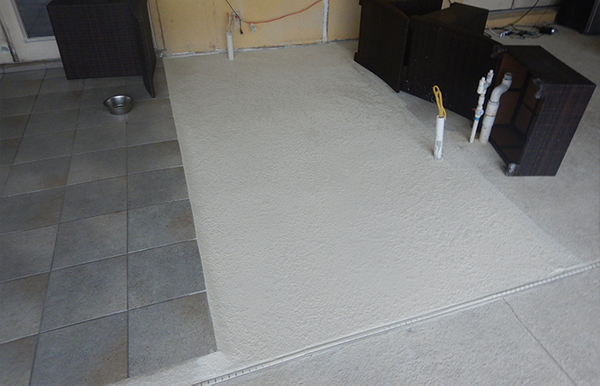 Floors
Concrete flooring is an ideal choice for generating luxurious looks fine-tuned to your style and preferences. Par Concrete can achieve a range of colors, stains, and textures for any concrete floor installation, personalizing the process to create a rich finish that you will love for years to come. Concrete is eco-friendly, affordable, and durable. Customers love the finish and simple maintenance of their new concrete floors. Provided you perform the proper maintenance, your concrete slab will last beautifully for the long haul.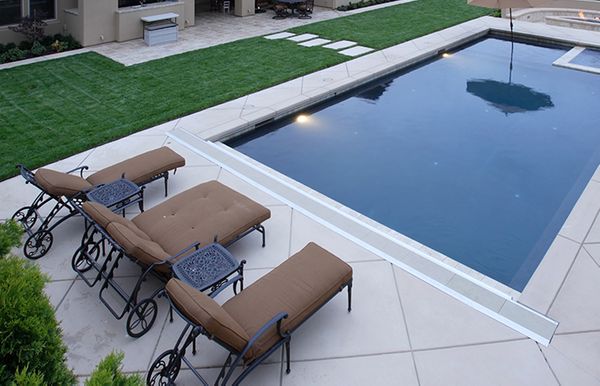 Pool Decks
A lot of your recreational time may be spent by the pool, soaking up the sunshine in our beautiful state. When the time comes for a new pool deck, it pays to find concrete contractors with a track record of successful outcomes. Par Concrete can pour concrete pool decks to match a variety of styles and budgets. We'll help you decide on the best deck orientation, layout, surface coverings, coping, and more. Modern advancements have helped to make concrete pool decks an affordable and effective choice for many homeowners.
Need to remove your old concrete? Par Concrete offers professional concrete removal services to quickly clear away aging slabs and walls. Learn more about our Orlando concrete company's professional services on our site, and be sure to contact us to learn more about our services!
Learn More Today
Whether it's a small walkway or a full driveway, installing concrete is a significant undertaking. We eliminate the hassle, stress, and complexity, infusing your property with beauty, durability, and value. Turn to Orlando's premier concrete installers for all your residential and commercial needs. Contact us online to get started!
GET A FREE ESTIMATE TODAY