Concrete Sidewalk Installations
Serving the Greater Orlando Area
Improve Safety and Functionality With a New Sidewalk
We walk on them nearly every day, but we don't really stop to think about the importance of a quality sidewalk installation or how an old, worn down sidewalk can be dangerous. But all it takes is a slightly uneven path to cause a tripping hazard or weeds growing in cracks to hurt the curb appeal of a home. If there are cracks in your concrete sidewalk or if pieces are uneven, rely on the contractors at Par Concrete in Orlando. We offer customers exceptional service and quality workmanship that will ensure your home is safe, looks its best, and is as functional as possible.
Why Hire Par Concrete to Install a New Concrete Sidewalk?
Improve Safety
Enhance Curb Appeal
Increase Property Value
Improve Quality of Life
Improve Landscape Functionality
Concrete is Durable and Affordable
Quality Concrete Sidewalks and Pathways
The sidewalk from the driveway to the front door or the walkway that leads from the back door to various points throughout your landscape, a quality sidewalk or pathway can enhance a landscape in many ways. With a newly installed sidewalk, family and guests of all ages can walk around the yard without worrying about tripping. If you're planning on selling your home in the near future, it can also help to improve the curb appeal and value of the property.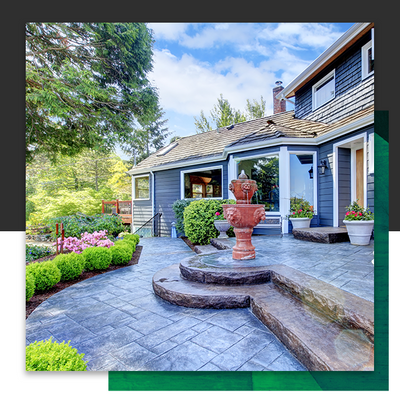 Customized Design That Fits Your Home's Style
At Par Concrete, we are committed to improving the look and functionality of both your front and back yard. Our contractors can install a variety of finishes to create a personalized look that fits the design of your home and landscape. Our team can design traditional sidewalks or curved walkways that lead to a garden bed, seating area, or fire pit. If there are existing features or plants that we need to work around, we can do that too.
In addition to pouring concrete, our contractors can also install pavers in a variety of patterns and designs. Pavers can help create a unique look that can truly set your landscape apart from the rest. Above all, we want to help you get the most out of your yard with quality service and exceptional attention to detail.
Get Started With Par Concrete in Orlando Today
If your sidewalks and walkways are cracked, uneven, or simply look old and worn down, rely on Par Concrete for all of your concrete and paver needs. We strive to provide affordable, high-quality services for customers throughout Central Florida. Call us today for a free estimate!
GET A FREE ESTIMATE TODAY